The self-audit process may be applied to any of the FP17 claim assurance exercises undertaken by the Dental Activity Review (DAR) team.
Following an assessment of the sample of records supplied, the DAR team will share the review outcomes with providers who will have the opportunity, through reassessment of their claims, to agree or disagree with the findings.
In addition, Providers may be asked to conduct a self-audit of any remaining claims for the review period. It is hoped that any learning gained from the DAR team review can be applied to those remaining claims to ensure they have been claimed correctly.
We work collaboratively with providers to ensure self-audits are completed in full to enable the DAR team to then  present the findings of the provider at our formal, clinically lead, review panel.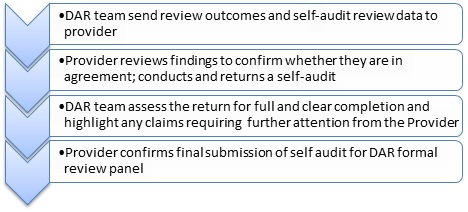 Where this process identifies differences in the original claims made, we work collaboratively with the provider to resolve any inaccuracies.  This may result in monies being recovered back to NHS England and reimbursements to patients.
The most efficient way of carrying out a self audit is with a secure '@nhs.net' email address. However we can offer an encryption service for non nhs.net addresses if necessary
You can register for an nhs.net email address if you don't have one already.