Age
The normal pension ages in the NHS Pension Scheme are: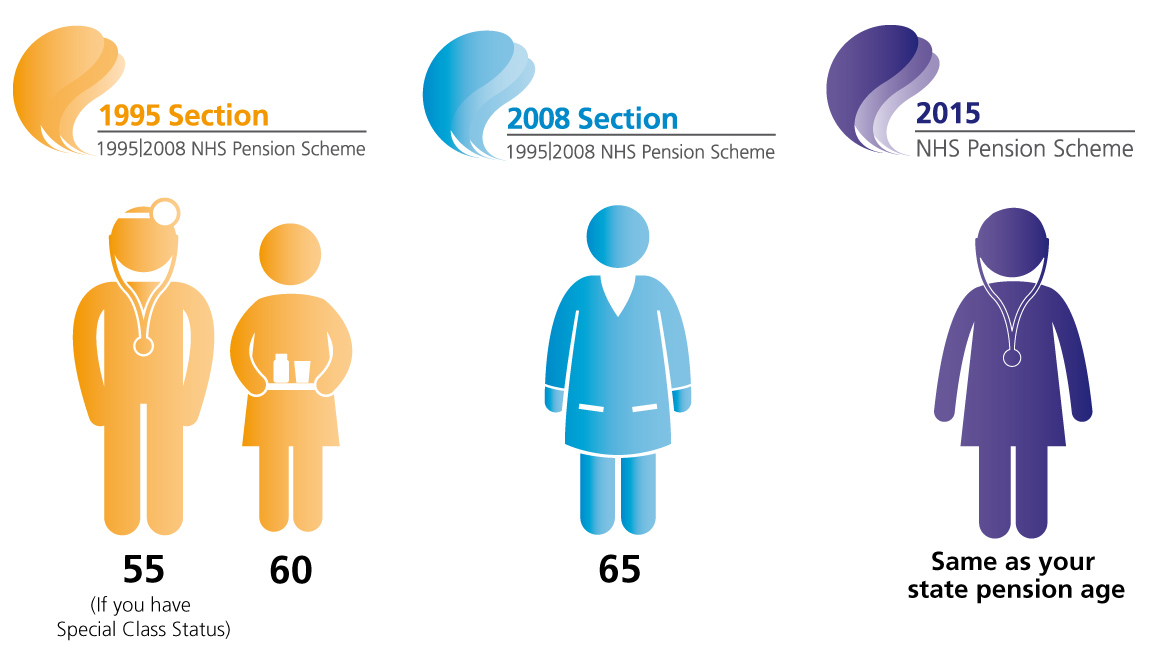 Members can retire earlier or later depending on the rules of the Section or Scheme they are in.
The NHS Pension Scheme overview provides more detail about each Scheme.
Actuarially Reduced Early Retirement (ARER)
Allocation
Subject to certain conditions, a member may give up (allocate) part of their pension to provide for a pension, to be paid after their death, to another person. That person may be a spouse, civil partner, nominated partner or someone who is dependent upon the member for support.
Choosing to allocate will result in a reduction to the member's retirement pension.
If an allocation is made in favour of the spouse, civil partner, or nominated qualifying partner, they will get the allocated pension as well as their survivor's pension from the scheme.
A member can apply to allocate:
on making a claim for payment of benefits or, after making a claim, before the date on which the pension is put into payment

 

or if the member is in pensionable employment

at any time after completing 45 years pensionable membership, if not a member of the Special Classes or

 

for a member of the Special Classes, at any time after reaching age 55 and completing 40 years pensionable membership or

 

at any time after reaching age 65 (60 for members of the Special Classes)
The application should be made using form AW8/11A.
Form AW8/11A should then be attached to the application form AW8 or AW8P and sent to NHS Pensions. When we receive these forms we will send the member a quote to assist them in deciding whether or not they wish to allocate.
A member who applies to allocate part of their pension must be in good health for their age and will need to have a medical examination at their own expense. It is not necessary for  the beneficiary to be medically examined, but the member should satisfy themselves that the person is likely to live as long as they are because if the beneficiary dies before the member, the allocation cannot be cancelled under any circumstances, and the allocated part of the pension would be lost forever.
A member can only cancel or change an application to allocate before we accept the application.  
A member may not allocate more than one third of their pension ensuring a pension for the beneficiary of at least £260 a year.
The members remaining pension must exceed the beneficiary's allocated pension.
The amount of pension the beneficiary will receive for each £1 allocated will depend on:
The members age
The beneficiary's age
Whether the beneficiary is male or female.
The beneficiary's pension must exceed 1% of the standard Lifetime Allowance.
2008 Section Optants
Read the following factsheet for information about members who have elected to move from the 1995 Section to the 2008 Section as part of the Original Choice Exercise.
Pension Increase
NHS pensions are fully index linked to protect them against inflation.  This means that the pension is increased each year in line with the cost of living for as long as it is paid.  This indexation is commonly known as Pensions Increase.
NHS pensions are reviewed annually and are increased, as appropriate, to keep pace with rises in the cost of living.
Pension Increase is paid from April, based on the rise in the rate of inflation in the 12 month period up to the end of September, in the previous year.
Depending on the member's type of retirement, they may not qualify for the increases to their pension straight away.
The Retirement Guide contains more information regarding Pensions Increase and when the member can qualify for it.
Pension commutation
Pension commutation is an option for members with Scheme membership on or after 1 April 2008 to permanently give up some of their annual pension in exchange for a lump sum, which is normally tax free. The rate of exchange is £12 lump sum for every £1 of annual pension given up. The amount of lump sum that can be taken is subject to limits set by HM Revenue and Customs (HMRC).
Claiming a bigger lump sum does not affect the level of survivor benefits payable to a partner or dependent child.
Normally members of both the1995 Section and the 2008 Sections are eligible to commute pension, but there are some differences to be aware of:
1995 Section - Members must have contributed to the scheme for at least one day on or after 1 April 2008. They automatically receive a lump sum that is normally tax free but can increase it by giving up part of their annual pension.
2008 Section - Members do not have entitlement to an automatic lump sum. To receive a lump sum, they must give up part of their annual pension in exchange.
2008 Section Optants - Members who elected to move from the 1995 Section to the 2008 Section under the Original Choice Exercise receive an automatic lump sum based on their membership up to 31 March 2008 and must give up some pension in exchange for this. This is known as the mandatory lump sum and can be increased by giving up a further part of the annual pension.
The application to commute part of the pension for a lump sum should be made at the time of claiming retirement benefits, and before any monthly / weekly pension is put into payment.
Please note for members who wish to commute and are claiming Actuarially Reduced Early Retirement, their commuted benefit will be based on the value of benefits after actuarial reduction.
Members who retire on Ill Health grounds can commute the full value of their benefits, including the enhanced element, subject to the maximum amount payable.
HMRC limits
The maximum that can be taken is a lump sum of up to 25% of the capital value of the total benefits or 25% of the standard LTA whichever is lower. The capital value of a member's benefits is measured after pension commutation has taken place, and the remaining pension must be more than the annual re-valued Guaranteed Minimum Pension where applicable. This is determined by a limit set by HMRC.
There is a calculator on this website to help members to choose the amount of pension they can give up in exchange for lump sum.
Guaranteed Minimum Pension (GMP)
Read the following factsheets for more information about GMP and how we use it.
Early Payment of Preserved Benefits
Revised awards
If any changes are made to a member's employment record after a retirement application has been submitted a revised award may need to be calculated.
These changes could be due to one or all of the following:
1. Pensionable pay* (actual and/or notional whole time if part time).
2. The last day of pensionable employment and/or a change to pensionable membership i.e. unpaid sick days
3. Pensionable hours worked if part time.
*For 2008 Section members including Scheme Optants, if there is a change to the employer pay please also notify us via form AW171.
In all cases where there is an amendment to be made to one or all of the above an AW171 must be completed and sent to NHS Pensions. There is no limit on the amount of AW171's that can be sent so as soon as a change has been identified notification should be sent to NHS Pensions so that a revised award can be calculated.
Forms you may need